April 20, 2023 | by admin
A Design career in Fashion Design is both rewarding & exciting.
Before we start let's look @
Fact Check :
1. The global retail apparel market is $1.4 trillion
2. The global retail fashion market is $ 1.78 trillion
3. Footwear sales globally is $ 366 billion
4. India is the 5th largest Market for fashion globally.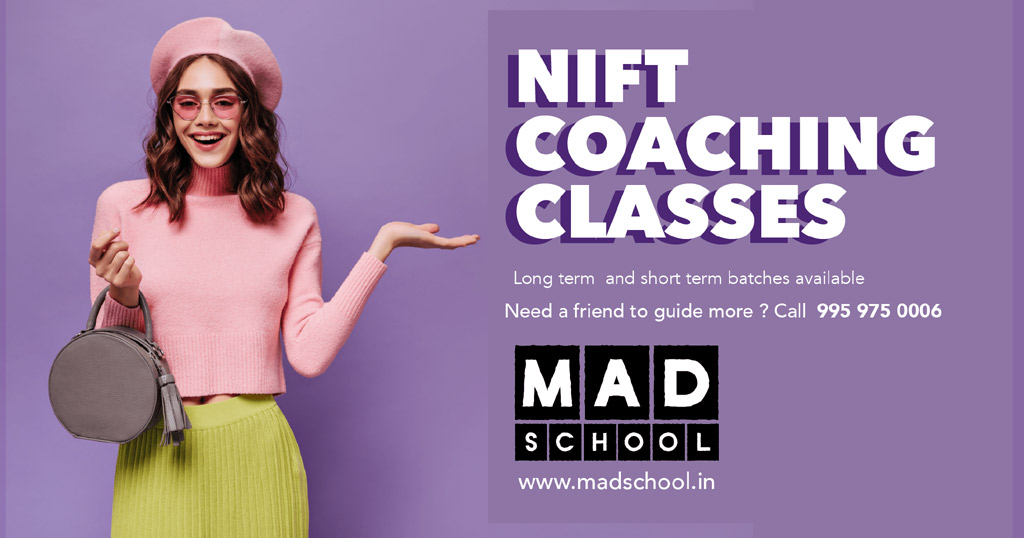 Get the best Nift coaching classes in Hyderabad and Chennai from Madschool. Visit our centres to get free Counseling session for Nift and other design careers and entrance exams.
What are the prerequisites to become a part of the fashion industry ?
Definitely a formal training in the areas of fashion design from a reputed college would help you catapult the growth, career and exposure that you have dreamt for.
Eligibility to gain entrance to Design colleges in India includes you to clear plus 2 in any discipline and clear a set of examinations that are conducted by colleges individually like NIFT entrance exam. These sets of examinations determine your aptitude and attitude to pursue a career in the sector of fashion design.
But if you have ambitions to pursue your studies abroad then it's a different story which consists of portfolio preparation along with personal interview .
A few of the leading design colleges in India include NIFT, Pearl Academy, IIAD, FDDI, Instituto Maringoni etc . Please visit www.madschool.in to know more about nift coaching or visit us if you're looking for one of the top Nift training centers in Chennai and Hyderabad.
A career in Fashion ( what does it involve )
There are 2 parts to this question. The designing side and the technical side.
While the designing side involves one to be artistically creative the technical side involves the creativity to be deployed in the format of engineering . A common requirement for both these activities requires one to have a passion for style, creativity & an understanding for different types of clothing .
" Let's look at some of "The Popular careers in fashion industry "
1. Fashion stylist
The person is responsible for advising various ways to wear clothing and in creating outfits . A person associated with this sector works closely with public figures, celebrities and a person who is in the public limelight. You can either be independent or be associated with a brand. The role of a stylist includes working closely with their clients in helping them to choose styles that complement their specific body styles & budget. He also requires good listening skills in order to understand their desire.
2. Merchandiser
The role will primarily be responsible to ensure the availability of right products in the stores at the right time with appropriate pricing . Merchandisers are the hands and ears of designers in creating products that are both profitable and in demand. Merchandisers works for retail store or for any apparel brand . Merchandisers advice designers in changing of styles , review pricing in ensuring the brand remains profitable and in demand .
3. Fashion Designer
The role requires one using their creativity to design new styles for their target customers. The job involves developing designs that are innovative and original. Fashion designers gather inspiration through comparisons of top sellers, runway shows, seasonal trends etc . The job includes extensive travel , people interactions etc .
4. Textile Designer
The textile designer works closely with fashion designers and merchandisers in creating designs that suit customers , seasons and clothing style . They does research in knowing trends in ensuring their designs are contemporary and in demand and trend . Textile designers create designs using software or traditional hand drawing that can be printed or woven to a fabric.
5. Graphic Designer
A graphic designer plays a big role in the areas of fashion design. They create designs that are hand drawn or computer aided that are printed on garments.
6. Creative Director
The role includes the director where he determines the theme , color palette, and styling of an apparel season's collection. A creative director can work for any brand or individually as a consultant. The role.of a creative director includes trend research , reviews on data ( sales and marketing ) , in forecasting the purchase resend of customers. They also coordinate with senior designers in deciding on color palette, theme , inspiration sources and key design elements they want to see in the collection. The creative directors also ensure the designs stay on track and are relatable .
7. Technical Designer
This is related to the back end in fashion design. He is basically a garment engineer and he referees between design and product team. The technical designer takes vision for each garment from the design team which determines the stitches and hem to be used in finishing . You will also be responsible for communicating sewing details to the factory along with measurement of garment . The primary responsibilities include fitting of garments, revising measurements, pattern , sewing methods to make well fitting and high quality intermediary products.
8. Quality assurance
The role includes maintaining quality or assuring quality for garments throughout productions. They are a part of an apparel brand or a third party auditor . The QA manager sets checkpoints throughout the production line in quality review . Your role will also be to visit factories in reviewing quality and packing methods of garments.
9. Production Manager
He sees the overall manufacturing process including fabric testing, cutting, sewing , packaging and final garment appearance. You can be employed either by the manufacturing or any brand of an apparel. The primary duty is to ensure compliance with all legal and ethical requirements. He is also responsible for meeting timelines as discussed.
MAD school : Coaching & Training center
MAD school is a coaching center which prepares students for NIFT, Pearl academy, Instituto maringoni, IIAD, Fddi and some of the leading Fashion design colleges in India and abroad for fashion design .
MAD school has its coaching centers located in Hyderabad and Chennai. Our coaching center is located in the prime locations with easy access to Metro, road and any other means of transport & with ample parking space . We have classes conducted in both online and offline mode . We provide coaching with flexible class timings. Long term coaching, short term coaching and a special repeater batches are conducted in MAD school.
Admissions are open throughout the year *** ( check for availability) For more details please visit www.madschool.in
Your email address will not be published. Required fields are marked *