Posted on December 12, 2019 | by admin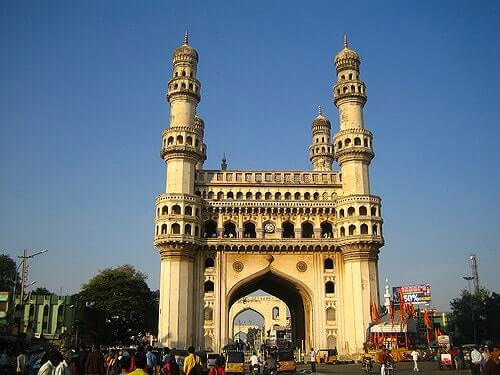 HAU – YES, KAIKU– WHY?, NAKKO– NO THANKS, POTTI– GIRL, POTTA-BOY, HALLU HALLU– SLOWLY, KIDAR JA RE– WHERE ARE YOU GOING?
These are some of the common words that you might come across while you are in
Hyderabad...
Welcome to the City of Pearls & Nizams. Did you know that in 2015, Hyderabad was voted as one of the best cities to live in?
Hyderabad has a total population of 1.3 crores as surveyed in the year 2017. Hyderabad has become the sought-after destination for any family, bachelor or student for a wonderful living experience.
In this article we shall try to see what makes this city one of the best places to be in.
The city is a perfect blend of Traditional and Modern living. What jolts any living cerebrum, if reminded about the city would be the native and mouth-watering "Hyderabadi Biriyani". Another reason for the city to be popular is the cost of living. The cost typically for a 1BHK apartment would be within the range of Rs3000-Rs 15000/-. Other factors influencing the cost can be location, area, & extra amenities. Well needless to say, there is space in the city for any person who is craving a new delightful life.
SECURITY &SAFETY
Do not worry, I ensure you safety in Hyderabad. The city according to the record, released by the National crime records Bureau, has emerged as one of the safest cities in India. The roads are well lit during the night with round the clock police checks and the surveillance cameras cover every nook and cranny making it safe for both genders.
LANGUAGE
The language spoken here is a mix of Hindi laced with Urdu, making it unique to Hyderabad. With most people educated and employed in the IT industry, English is another language the society is familiar with. Hindi is also a commonly spoken language.
Education, Health Facilities & Research Centres
Hyderabad is home to some of the top education institutes and Hospitals in India. Osmania University, JNTU, Hyderabad Public School, Tata Institute of fundamental research, Andhra Pradesh Open university, University of Hyderabad etc. are part of the city.
Hyderabad also houses some of the best research centres which include DRDO, CENTRAL INSTITUTE OF TOOL DESIGN, Central Power research Institute, Centre for economic and social research. Health facilities include world class medical institutions like Apollo Hospitals, Yashoda Hospital, Care Hospital and KIMS offering medical facilities of extremely good standards.
ENTERTAINMENT &THEATERS
Cinema is well accepted in the culture of Hyderabad and has produced some of the eminent personalities and films that have droned and captured attention all over the world.
Hyderabad has proven the technical prowess in the space of cinema with Bahubali 1&2 grossing and crossing the budgets and collections equivalent to Hollywood.
PVR, INORBIT, PRASADS MULTIPLEX, IMAX offer the best of experience for any movie lover. Prices for tickets range from Rs 100- Rs 500 for one person. Movies of all languages are played in these theatres besides local Telugu movies. Online facilities like book my show are available for convenient and early bookings.
Theatre is an evolving culture that the city is embracing. Deccani Tehzeeb is a well-known for culture of Hyderabad.Theatre groups like Surabhi, Sutradhar, Samahaara, Udaan,Kissa go, are making theatre popular within the city conducting various shows.
There are a ton of rock concerts, Open concerts, DJ Parties etc for all categories of people.
Literature in Hyderabad resumes in the blood of the people. Hyderabad literary festival is conducted every year. Book reading sessions by literary gurus, eye catching art installations were a part of the year's event.
Art in Hyderabad includes art galleries promoting and teaching various forms of art. Needless to say, every individual should have a place to unwind himself.
Open places like LAMAKAAN are a platform for social, public meeting and discussion are again a way to unwind.
With efficient, cheap and well-connected transport system in place, commuting from one point to another becomes a breeze. Roads are well maintained with enough sign boards chalking out directions and warning signs both in English and Telugu. Bus boards contain destinations written in Telugu and English. One way to identify bus routes is to understand the bus number. Each bus station is well lit with digital boards displaying departures and bus arrivals. Autos, call taxies are also available.
Hyderabad is a paradise for any foodie. With so many culinary delights and MNC chains, the city is the sought-after destination in food. Food is affordable in Hyderabad where a good, clean meal can be afforded for Rs 40/-. Hyderabad shall definitely be a gastronomical delight for both veg and non-veg lovers alike. For getaways there are scenic locations in the vicinity of 100- 350kms. Personal vehicle can be an ideal choice for a trail blazer.
Don't forget to visit MAD School if you are a design freak because you don't want to miss out on finding the design nerds like you.
Hope this article is delight to everyone…… Welcome to Hyderabad once again.
Some of the places to visit include: –
Salar Jungmuseum
Golkonda fort
Charminar
Ramoji film city
Birla Mandir
and definitely don't forget to visit MAD School.
www.madschool.in
MAD SCHOOL
NID – NATA – NIFT – CEED/UCEED COACHING CLASSES IN HYDERABAD
Your email address will not be published. Required fields are marked *